Le Mayi
Opening hours
Monday- Wednesday- Friday – Saturday: from 6 am to 2 am Tuesday – Thursday- Sunday: 6 am to 8 pm
Bar-Restaurant located in the boarding area and offers sandwiches.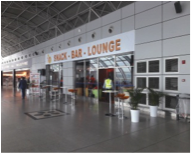 Servair Congo
Servair Congo has 03 stands in the Terminal located in the public hall of the Arrivals Area, public hall of Departures Area and in the boarding area. There are pastries, sandwiches (hot and cold) drinks.
Stands in the Departures and Arrivals Areas
Monday-Wednesday-Friday
Saturday from 6 am to 9:30 pm
Tuesday-Thursday-Sunday from 6 am to 8 pm
Stand in the boarding room
Monday-Wednesday-Friday
Saturday from 5 am to 9 pm
Tuesday-Thursday-Sunday from 6 am to 8 pm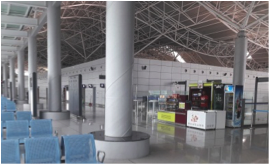 L'Escale Bantu
(Restaurant) located in the mezzanine, offer menus for breakfast and main course every day except on Sunday.
Opening hours:
Monday to Saturday from 7 am to 10 pm
Closed on Sunday